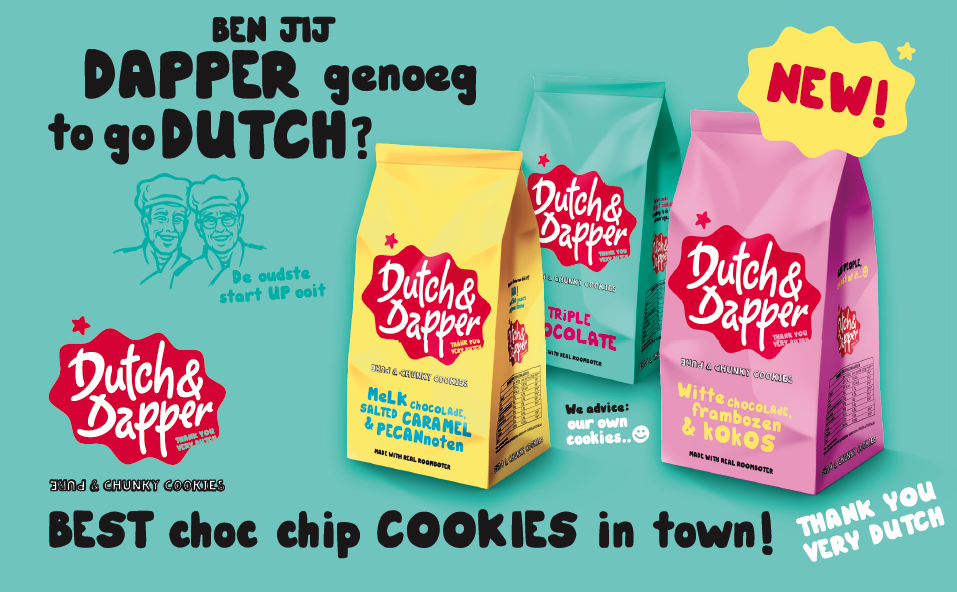 Developing a new brand Strategy & Branding - Packaging design - Shopper activation
the oldest start-up in Cookies !
ASSIGNMENT
Van Delft biscuit company asked us to develop a totally new concept in chocolate biscuits. Bold, Impactful, cheeky and modern. Strong enough to carry a range of cookies in several markets
RESULT

We developed the brandname and brand concept called Dutch & Dapper. A start-up by 2 experienced master bakers at van Delft aging more then 100 years together and pretty cheeky at their age.
 Using a bold logo, impactful colour differentiation , dynamic illustrations and funny copy  - they are not fluent in English - we delivered the basic components for this new brand.
We created the pack designs for 3 exciting full flavours in flow wraps, packed in a block pouch; triple chocolate, milk chocolate- caramel-pecan and white chocolate- raspberry-coco !
Us making the best cookies has nothing to do with our age , howeverrr :-)